Heat can distract anyone, whether it's keeping us awake at night or turning our workplaces into saunas. The best way to make hot, stuffy rooms more bearable is to invest in a heat pump or portable air conditioner. These self-contained units require no installation and cost much less than the whole-house systems you'll find in countries with warmer climates.
The majority of portable air conditioners have a built-in timer, allowing you to cool a room when you get home for work without leaving it running unnecessarily all day. The majority are on wheels, allowing you to easily move them between spaces. But one thing that all PACs are definitely not cheap – be prepared to spend hundreds.
To help you make the wisest investment possible, we've put together our pick of the six best PACs, followed by a buying guide to help you choose the right one for you.
---
The best portable air conditioners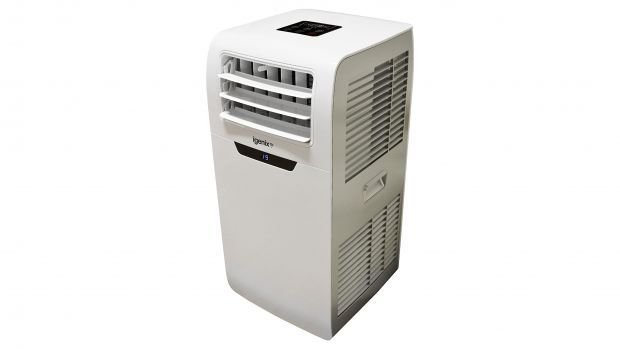 Measuring just 32cm wide by 68cm high, this PAC from Igenix is ​​ideal for small spaces. It's an upgrade on the IG9901, which itself was a remarkably good device — the Wi-Fi version has the same design, touch control panel and remote control, but it's also usable via the Igenix smartphone app and Alexa voice commands. You will be able to set the temperature, adjust the modes or set the timer without even pressing a single button. And if you're not too concerned about the hands-free side, the IG9901 is £35 cheaper.
Of course, this smaller size and its 9,000 BTU cooling capabilities means the Igenix IG9901WiFi won't have much of an impact in rooms larger than around 20m². And, although it is self-evaporating and comes with a 1.5m exhaust pipe, it does not have a window fixing kit. But all the same, we still call it the best smart PAC out there.
BTU rating: 9,000
Suitable room size:
Energy class: A
Dimensions: 320 x 680 x 348mm
Noise: 65dB
Hose length: 1.5m
Window kit included? No
---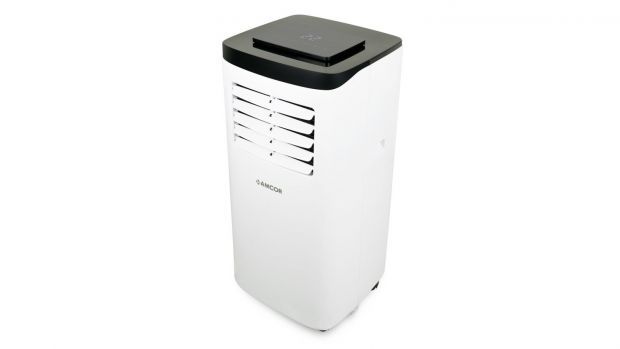 If the IG9901WiFi is pint-sized, then the Amcor SF8000E is practically tiny: just 34.5cm by 37.8cm. Its cooling power of 7,000 BTUs is still impressive for a PAC of this size. It will do an excellent job of cooling rooms up to 18m2 on the floor. At 21kg it is also particularly light and can be easily moved around the space on its castors, although you are somewhat limited by the 1.5 length of the pipe.
You can operate it via the top-mounted controls or the remote, and if you want to set it in advance, there's also a 24-hour on/off timer. The only real flaw with the SF8000E is the 33-48dB sound output, which has been commented on in various user reviews online – light sleepers might find it a bit distracting overnight.
BTU rating: 7,000
Suitable room size:
Energy class: A
Dimensions: 345 x 870 x 378mm
Noise: 38-65dB
Hose length: 1.5m
Window kit included? Yes
Shop at Appliances Direct | £279.99
---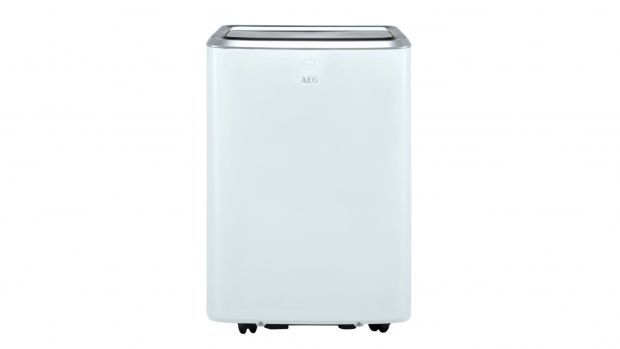 Between the sleek design, superior build quality, and energy efficiency, the ChillFlex Pro is one of the best PACs on the market. Like the Amcor SF8000E it has a 9000 BTU rating so can also handle rooms up to 18m2 on the floor – but what sets it apart is the fact that it uses R290 as the refrigerant, which which makes it a more eco-friendly choice (see our buying guide below). It can also function as a fan, heater and dehumidifier, so it will come in very handy during those months when you tend to shiver rather than sweat at night.
The ChillFlex Pro is incredibly simple to use, whether via the top-mounted controls or the included remote. Our only bugbear is the lack of a window fixing kit. Otherwise, it is a premium PAC.
BTU rating: 9,000
Suitable room size:
Energy class: A
Dimensions: 476 x 710 x 385mm
Noise: 64dB
Hose length: 1.5m
Window kit included? No
Buy now at AO.com | £499
---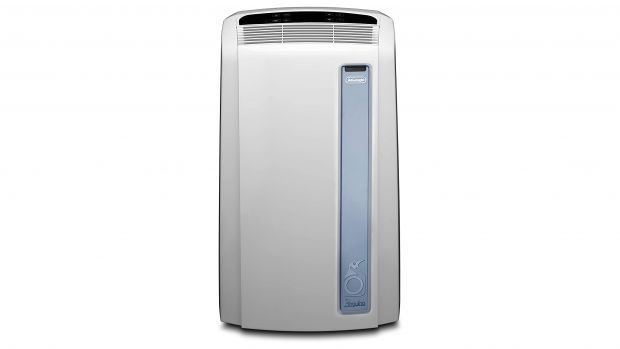 DeLonghi had to compromise when they followed the stunning PAX AN97 ECO with its successor. The manufacturer boosted the green credentials of the AN98 by switching to R290 refrigerants, but in doing so the cooling capacity was increased from 10,800 BTUs to 10,700 BTUs. It's not a huge compromise – and the PAC AN98 ECO is still more than capable of cooling rooms of 20 m2. DeLonghi's PACs work with the brand's Real Feel technology, which quickly reduces a room's temperature and humidity and then maintains them at a comfortable level. A 'comfort indicator light' on the touch control panel will track this progress – and if your space doesn't need full air conditioning, this can also be used as a fan or dehumidifier.
We would have preferred the 1.2m hose to be longer and a window fitting kit included. But otherwise, it's a good air conditioner for medium-sized rooms.
BTU rating: 10,700
Suitable room size:
Energy class: A
Dimensions: 750x350x310mm
Noise: 64dB
Hose length: 1.2m
Window kit included? No
---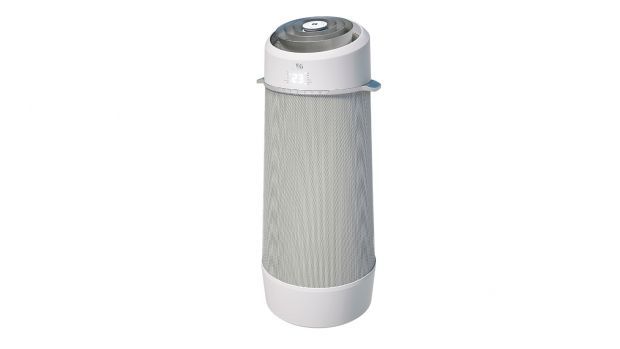 Portable air conditioners will never look good, but if there's one that comes close, it's the AEG PX71-265WT. Unlike the typical bulky industrial look, this one features a tapered cylindrical design that gives it a look similar to that of a high-end kitchen trash can.
There's plenty of substance to go along with the styling of the PX71-265WT: it has a cooling capacity of 9,000 BTUs, and does so particularly efficiently thanks to a spiral airflow design. We particularly like the little touches like the dimmable screen and magnetic remote that you can attach to the device, plus (joy!) a 1.8m hose and bundled window kit. The A+ energy is impressive; Factor in smartphone app compatibility and you have one of the best-designed portable air conditioners on the market.
BTU rating: 9,000
Suitable room size:
Energy class: A+
Dimensions: 95.5 x 38.8 x 38.8cm
Noise: 64dB
Hose length: 1.8m
Window kit included? Yes
Buy now from AO | £789
---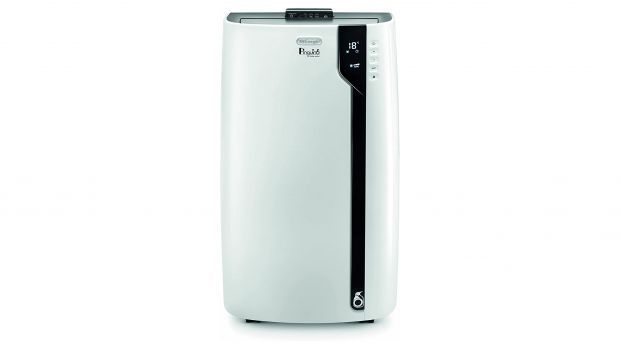 First things first: the "Silent" in the name of this product is a little cheeky. This DeLonghi PAC is barely quiet, but its 53 dB noise levels in use are lower than competing air conditioners of its size and power. Best of all, it holds the A++ energy efficiency gold designation and provides 10,000 BTUs of cooling power, which will quickly bring down the temperature in an average sized room.
There's an indicator light that lets you know if the room is uncomfortable (amber), acceptable (green) or perfect (blue), while the front-loading controls let you cycle through modes and settings hassle-free. It's a bigger and heavier unit than the others on this list, and it's also the most expensive – but you definitely get what you pay for.
BTU rating: 10,000
Energy class: A++
Suitable room size:
Dimensions: 80.5mm x 44.5mm x 39cm
Noise: 53dB
Hose length: 1.2m
Window kit included? No
---
How to Choose the Best Portable Air Conditioner
How much should I spend?
Most PACs will cost you between £300 and £1000. You will find cheaper evaporative air coolers that cost less, but they are not as efficient as the original air conditioners.
You need to consider the space or spaces you plan to cool when determining how much to spend. Portable air conditioners are rated in British thermal units. One BTU is equal to the amount of heat needed to raise the temperature of one pound of water by one degree Fahrenheit. Simply put, the higher the BTU rating, the larger the space an air conditioner can cool.
Variables such as window size and floor-to-ceiling height mean there is no direct relationship between room size and BTU rating – we suggest using this online calculator to determine what is the best BTU rating for the space you want to refresh. Manufacturers also give a rough estimate of the expected room size with each PAC.
Where should I install my portable air conditioner?
Where you place the PAC is very important. All units exhaust hot air, and this air must pass through a permanent window or vent which (most likely) will need to be specially installed. Most PACs include some sort of window attachment that will configure the window to exhaust hot air from the air conditioner hose to the outside world.
Heat pumps not only expel hot air, but also moisture: a side effect of cooling air. Some air conditioners evaporate internally and send it out the hose or out the back of the machine. In other models, it is stored in an internal tank that you will have to empty by hand.
Are mobile air conditioners noisy?
No portable air conditioner is completely silent, but the makers are well aware that no one wants noise instead of heat to keep them awake at night. This is why all heat pumps incorporate a compressor and one or more fans to reduce noise to a minimum.
Keep in mind that the quiet hum of an air conditioner is white noise – the monotonous, unchanging type of sound that tends to put people to sleep. In fact, a YouTube search for calming white noise to induce sleep actually includes, alongside rain and crashing waves, air conditioning units.
Will I accumulate costs in the long term?
Generally, the higher the BTU rating, the harder the air conditioner has to work and the more energy it will need to consume. That being said, not all units are equally efficient when it comes to power consumption. When browsing, pay attention to the energy efficiency class of the PAC, which ranges from A++ (very good) to G (not so good at all).
Do heat pumps destroy the environment?
It is true that, like most large electrical appliances, portable air conditioners have an impact on the environment. But that's something you can mitigate by choosing a model with a highly effective A++ rating. Additionally, some manufacturers help reduce the environmental impact of their products by using refrigerant gases such as R290. These do not create greenhouse gases during the life cycle of the product and harm the environment much less.